What is this?
This website offers answers to Gudetama Tap! players that have questions about how this game works.

We decided to put every question and answer for the players to see what they need help with.

Please do check the "Official FAQ" made by the developers of this game to find your answer to your question.

If you are still unsure and need an answer, feel free to contact through Discord, Twitter, Reddit, or click the "Need Help?" button. It will direct you to a form for you to fill out and it does not take long.
----------------------------------------
We also have our unofficial wiki of Gudetama Tap! which is updated often thanks to Elonie and many editors out there!

The spreadsheet is updated just recently but many information are not filled out so we do apologize for that!

If you have any questions/concerns, feel free to use "Need help?" or contact us through any Social Media buttons.
Beginners Q&A
Please do check the Official FAQ first before asking questions. Your answers might be there for you.
Q1: How to play this game?
A: The goal in this game is to cook as much Gudetama, an egg, as you can! The more Gudetama you cook, the higher the level (Lv) will be as well as the amount of GP (Gudetama Points) per tap! Once you successfully cook a new Gudetama, +1 for both Level and the number of GP per tap! There are many features in this game that you may enjoy!
Keep collecting as many Gudetama as you can!
Q2: Why am I getting a Bad Egg when I land in the blue section of the wheel?
A: This is a common thing in this game. It was previously named "Surprise" as the blue section but it is now "Happening". The blue section gives you 50/50 chance of getting either a "Happening" Gudetama or the Bad Egg. Even if you get a Bad Egg, you will still receive items (mostly Bouillon Cubes).
Q3: How to cook a Gudetama?
A:
1) Choose any Kitchenware with a "loading" icon which shows that you have not cooked a Gudetama yet.
2) Pick any Recipe Book (or pick the Rank of the Kitchenware) and click again. You will see various of Gudetama filled up one page of the book.
3) Once you pick a Gudetama you want to cook (must pick only one), you will notice that there are information about the Gudetama such as the cost and the amount of GP you will earn back after cooking it successfully. However, if you do not have enough GP to cook the Gudetama, you have to earn more GP through tapping (auto-tapping is acceptable), cooking Gudetama, GP given by your friends in-game, or completing the challenges (Daily, Normal, and Event.)
Q4: How to earn GP (Gudetama Points)?
A: The game will give you instruction on how to do so. Just simply tap the Gudetama that is in the center of the RV. You will keep tapping until you reach any amount you need for example, cooking gudetama requires specific amount of GP. The max amount of GP is 999,999,999GP. Further than that amount will cause glitches and the game will reset back to 999,999,999 for you after a restart.
Q5: How to get GE (Golden Eggs)?
A: There are multiple ways to get them.
• Watch Advertisements through GPS which can be found in the RV room with front seats. For every 8 hours, the GPS will give you the opportunity to watch Ads and earn 3 - 4 GE every 8 hours.

• Share any notices (in the icon with letter and present labeled News and Presents). If there is no message that stated that sharing will give you 1 GE, don't share it then.

• During Lazy Festivals and Tour Events, after cooking an Event Gudetama, you can press the "Share" button and the message stating that sharing will get you 1GE, share it once per day until the Last Dash Campaigns begin (no GE, only Speed Sauce (Silver)).

• Similar to above but you can share any non Event Gudetama in order to get 1GE.

• You can also share to get 1GE through Gudeguide (works for both event and non-Event Gudetama).

• Complete the challenges and points rewards in "Event" icon.

• Purchase in "Shop" with real money.
Q6: What is this event thing happening and how do I participate in it?
A: Please refer to the Events button. Useful information is available in there for you.
Q5: How do I backup the game data?
A: This game does not have GameCenter or any other cloud backup. However, this game has its own way of saving your data.
Just follow the instructions even if you do not want to transfer to other device immediately. Screenshot your information and upload it to your cloud (Google Drive, DropBox,etc).

Below Image shows "Device Transfer" which can be found in the title screen.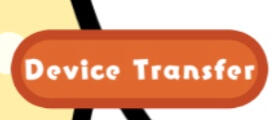 IMPORTANT
Do NOT uninstall/delete the game! You will lose EVERYTHING!
Uninstalling this game will erase the data, profile, Level, EVERYTHING. Doing so will NOT fix the bugs that you are dealing with or any circumstances.
Kitchenware in RV
There are currently 5 Kitchenwares available in RV! We provided you a guide on how to get them and the description on each Kitchenware.
| Kitchenware | Description | Cost | How to get | Ranks |
| --- | --- | --- | --- | --- |
| Cutting Board | The first device to cook gudetama. | Free | Unlocked in the beginning of the game. | 1 - 4 |
| Frying Pan | The second device used to cook Gudetama. | Free | Unlocked after cooking 3 Gudetama or Reach Level 4. | 1 - 4 |
| Pot | The third device used to cook Gudetama. This device can make boiled egg dishes, which explains the long wait time. | Free | Unlocked after cooking 30 Gudetama. | 1 - 4 |
| Nice Microwave | An almighty cooking tool capable of frying, steaming, and so much more. It looks and feels expensive. | 40 Golden Eggs | Reach Level 50 to purchase in Shop. | 1 - 4 |
| Cup Gudetama | Easily cook gudetama right from home! Just pour hot water and wait! | Free / Different prices in Shop: 5, 10, 20 Golden Eggs | Reach Level 5 to unlock it. | No ranks but various of Cup Gudetama. |
| Hot Plate | The device that only appear when the event is happening. It consists of two recipe books: Event 1 hour recipe and Event 6 hour recipe. | Free | Reach Level 7 to unlock this. Available in Lazy Festival and Tour Events only. It will disappear few days after the event ends. | 1 |
Cup Gudetama Guide
All Cup Gudetama are listed below so be sure to check it out!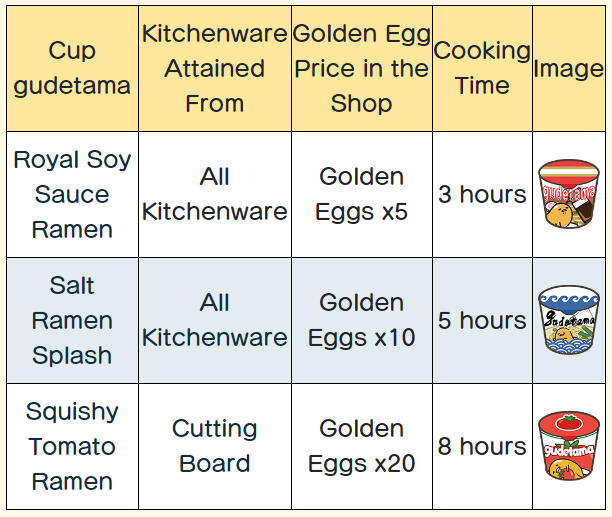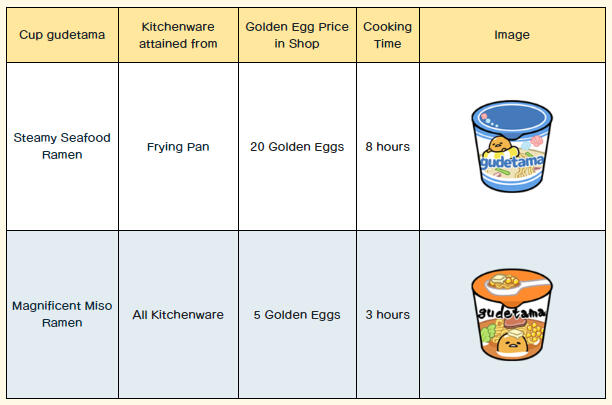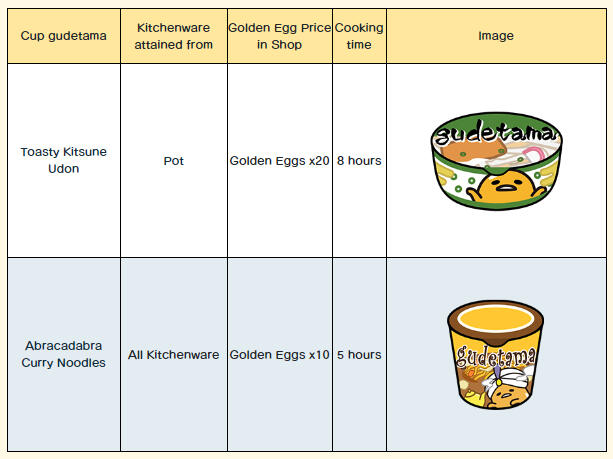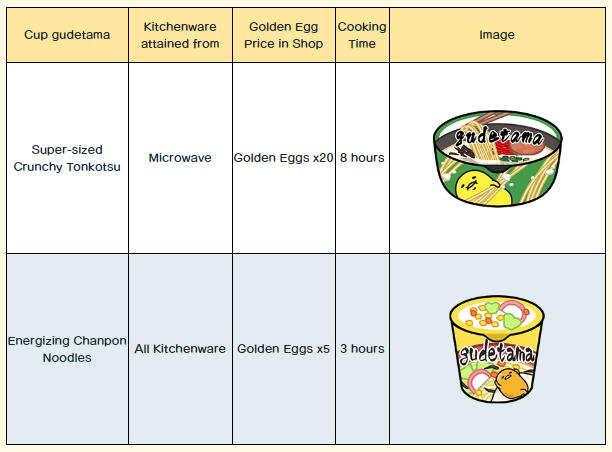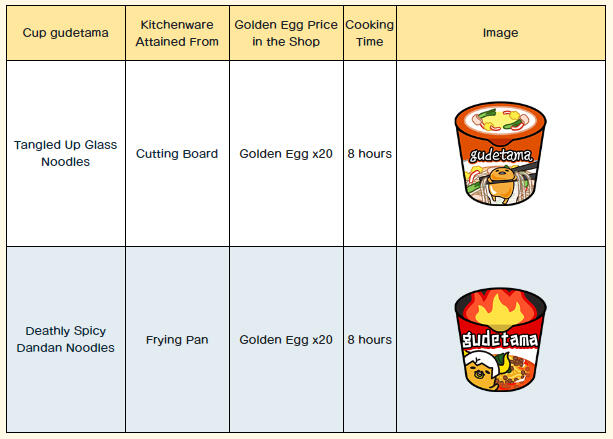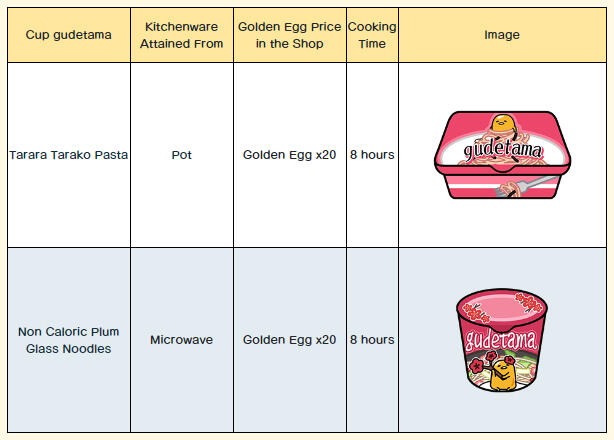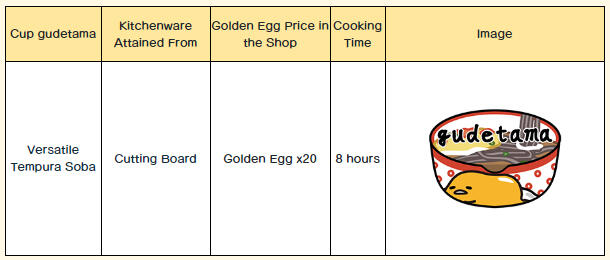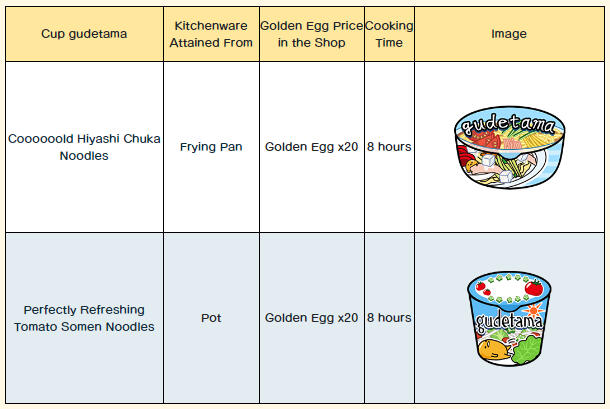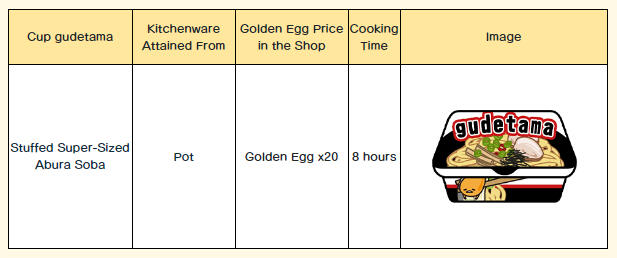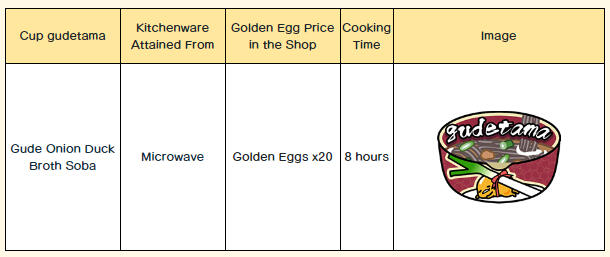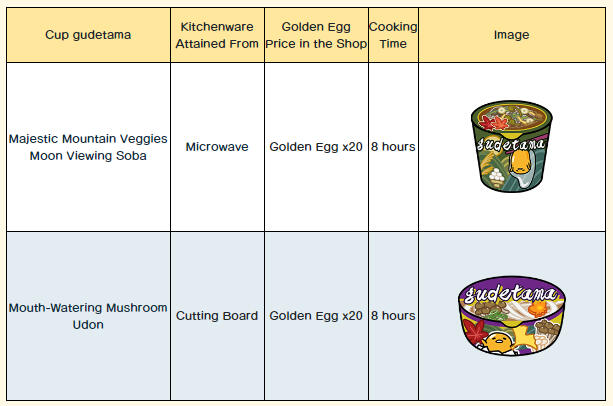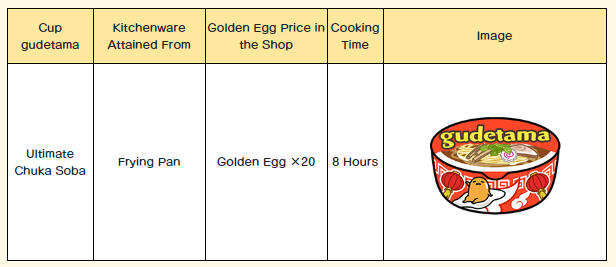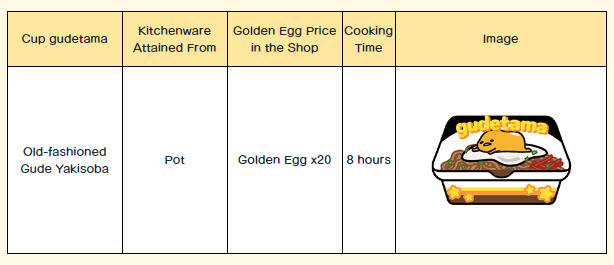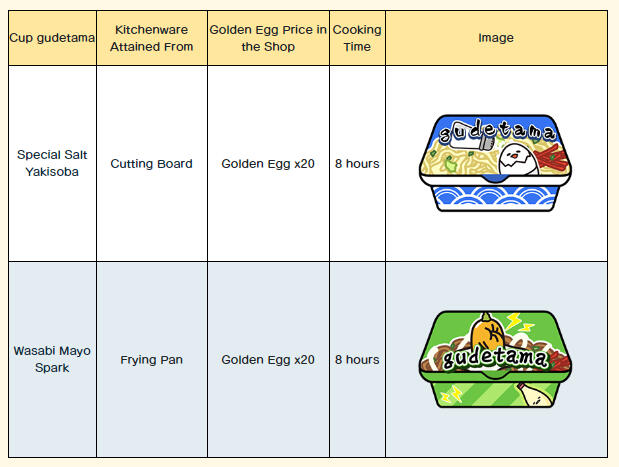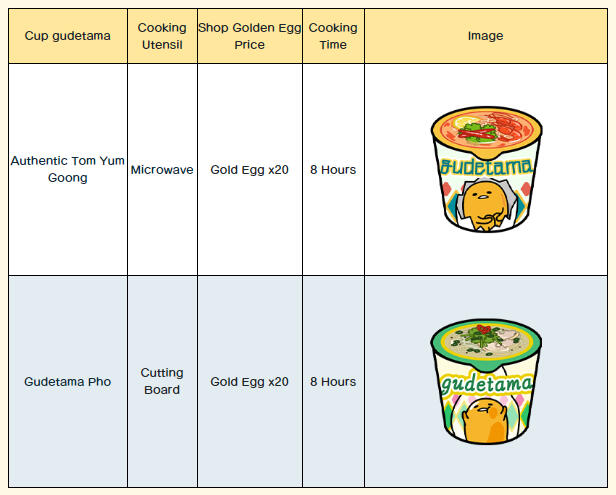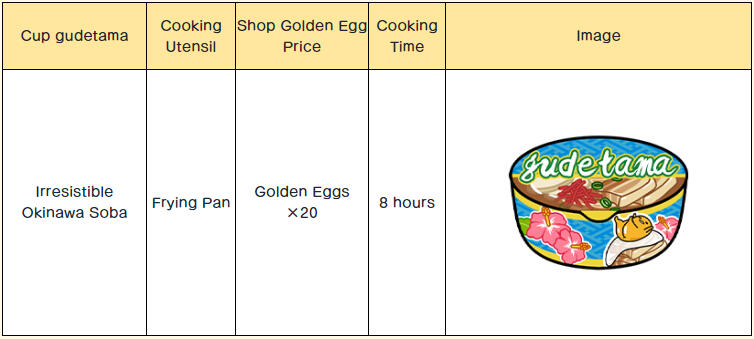 Events
lol im so sorry for this empty space ...
©Gudetama Tap Community. All rights reserved.